Christmas Rush
Christmas Rush airs Sunday December 1, 2002 at 8 p.m. (ET)/ 7 p.m. (PT) on TBS Superstation.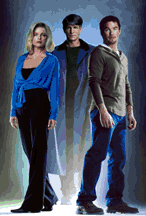 TBS Superstation presents Christmas Rush starring Dean Cain, Eric Roberts, and Erika Eleniak. In a Christmas action-packed movie resembling Bruce Willis' Die Hard I, II, or III, Dean Cain (Lois and Clark: The New Adventures of Superman) takes time off from Ripley's Believe It Or Not to play Morgan, a Chicago police officer suspended for an arrest gone bad resulting in a wealthy bystander being injured.
Faced with the suspension, a lawsuit from the injured bystander, and the possibility of losing his chance at becoming Captain, Morgan takes his frustrations out on his wife Cat played by Erika Eleniak (Baywatch) who works at a jewelry store in Chicago Place, an upscale mall. Eric Roberts (Runaway Train, King of the Gypsies) plays Scalzetti, a two-time felon who has drafted a group of scruffy rejects to help him pull off a major score at Chicago Place where millions of dollars are kept in a vault in the basement from every store.
Sounds familiar? Well it should since Christmas Rush is really no different from Die Hard (which I might add Cain references in his interview). The factor that makes Christmas Rush different from the other renegade cops meet bad guys with big guns that go "boom" is that Scalzetti needs the money, not just wants, but really needs it. His son as Leukemia and needs a highly expensive surgical procedure that could save his life.
So, add a culpable reason for this heist and you've got yourself a legitimate reason to check out Christmas Rush and to not just chalk it up as "Seen that, done that before." In Christmas Rush you may root for Superman, but you really want Scalzetti to get the money and save his son. It's that "gray area" that keeps you, the viewer, riveted to the screen to find out who will prevail. Will it be business as usual with Cain as the victor? Or will Robert come through and get the money for his son? Guess you'll have to stay tuned to find out huh?
Okay, this is for the ladies, you know when they put the movie in slow motion and you've go a group of guys walking all masculine like and looking so purposeful and dangerous? Their swagger makes your tongue wag and they're looking all sexy as their every move is enhanced and you're like umm umm umm...and, well, you get the point. They have a scene like that in Christmas Rush and while the men it the scene aren't that hot, it still looks good. But I digress. Watch the movie, you might miss Alias, but that's okay. You can catch it again next summer.
The action thriller is written, directed, and executive- produced by Charles Robert Carner (Crossfire Trail), executive- produced by Thomas Carter (Save The Last Dance) and co-executive produced by Richard Rothstein (Ali: An American Hero). It is produced for TBS Superstation by The Thomas Carter Company and distributed by Sony Pictures Television. Christmas Rush airs Sunday December 1, 2002 at 8 p.m. (ET)/7 p.m. (PT) on TBS's Superstation.