Erika Talks About Celebrity Fit Club
Former Baywatch babe Erika Eleniak is one of the celebs competing on Celebrity Fit Club 4. Here's what the actress had to say about losing weight on the VH1 reality show, which airs Sunday nights at 9 pm ET/PT.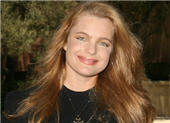 Are you nervous about some of the footage of you they might air on the show?
Absolutely not. I made the decision to be open and honest from the very beginning.
Approximately how many times did you cry during filming, (if at all)?
Probably 5 - at least!
Would you do the show again?
100%
Are you satisfied with the results?
I'M ECSTATIC (with the entire experience).
Is Harvey as scary as he seems?
Harvey is a beautiful, thoughtful, kind man.
Was it harder going into this show knowing that people knew you as a Baywatch babe? Is it hard trying to live up to that?
That show was 15 years ago for me - I don't think about it - It was difficult as an actress because people expect you to be perfect all the time and no one is ever perfect. You can't live up to that.
Photo © FilmMagic / VH1