Erika Eleniak: Life After the Beach
With her high cheekbones and wide eyes—both courtesy of Slavic roots—Erika Eleniak is a striking beauty. But it is her intensity and warmth that make the five-foot-six actress immediately likable.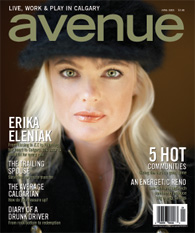 The 35-year-old was born and raised in California and began acting at the age of 10. Success came early: she was 12 when she landed a small role in Steven Spielberg's E.T. (She kisses Elliott in their classroom.) Shortly after graduating from high school, two events occurred that Eleniak is rarely allowed to forget some 15 years later: she posed for Playboy and she landed a role on Baywatch. Following her two seasons on the David Hasselhoff-led lifeguard series, Eleniak went on to do Under Siege with Steven Seagal, and The Beverly Hillbillies.
Eleniak moved to Calgary nearly four years ago. She says the decision was prompted by her love for the mountains, but it coincided with meeting Roch Daigle, a key grip, while working on the movie White Lies, which was filmed in both Whitehorse and the Calgary area. She now refers to Daigle as her better half, and the two lead a quiet life in town with their two dogs.
Eleniak makes frequent trips to L.A. for work and says she is grateful for every opportunity, "knock on wood." As she says the phrase, she knocks on the coffee table. It seems even those who were once lifeguards can't be too careful.
Was it Baywatch that really jump-started your career? There were two Baywatches for me in my mind—domestically and internationally. In the industry, it was [regarded as] people running around in bathing suits; domestically, it was hard to go and be taken seriously as an actor … . But internationally—oh my God. It gave me a world that I am so grateful for. So many movies that I have [done] were … because of Baywatch … . But it's not that Baywatch gave me this great career; it's not that simple. It took a lot of work for me to be able to go on to [other things].
How many bathing suits did you have? We probably had two or three … . It's so funny because I get comments all the time like … "Maybe you should sell that red bathing suit you have in your closet." I don't have one! I never got one! I wish I had that red bathing suit, that would be so cute, or a can—one of those flotation devices—or a jacket. I don't have a damn thing from Baywatch. I wish I did!
How do you choose your roles? I want to feel really good and proud of what I am doing. I need to walk away … and say "Can I bring something to this that makes me proud?" If it's a ditzy blond, all right, but let's not pigeonhole and stereotype [and make it] another bimbo role. Let's make this endearing—how can we make people love this person?
Personal style? You're looking at it. And I tell you what, it's a trap I can't get out of. You can take the girl out of California but you can't take the California out of the girl. I live in jeans. I live in my UGGs and I am Tinkerbell-obsessed and that is why I have Tinkerbell [the fairy in Peter Pan] on [my sweater] today… . Also, I think hats can really make or break an outfit and enhance a mood. I love all hats.
What do you wear to movie premières? I remember the first time I was here and I had to go to a movie première and it was going to be televised. I had nothing, so I went to Holt Renfrew and was trying on stuff and there were frickin' three other ladies going "What size is yours?" "Do you have any more of those?" I left in tears … . [Roch] took me to an army surplus store and I wanted to kill [him] … . I ended up wearing a pair of jeans that were belled at the bottom that were leather and laced up the sides, cowboy boots and one of Lady Diana's regimental jackets [such as the ones worn by the Princess of Wales' honour guard] and it was stunning it was so cool, the buttons went all the way up the back … . I got so many nice compliments.
Are you and Roch similar? I say we have a lot of similarities in personality and a lot of polar opposites in personality. We fit into both those moulds, which is good because balance is good … . I love the way he dresses; he has a very distinct style. He wears a lot of jewelry; I am a real minimalist with jewelry … . But I tell you, he wears that jewelry, that jewelry does not wear him. He pulls it off.
Are you engaged? [Erika wears a ring with a large sapphire surrounded by small diamonds on her left ring finger.] This is a promise ring and it's really funny because we're going on four years … . Did we take the plunge? No, but I'm definitely married at heart, and we'll definitely do it some day.
Do you get recognized in Calgary? Yeah, a fair bit; lots of really friendly people. There haven't been too many uncomfortable invasions. I remember once, Roch and I were kissing and someone came right up and started talking and I was like, "Hi, can we have a minute?" That was funny.
How do you feel about people considering you a sex symbol? Gosh, I don't think I have ever heard it, at least not to my face. But if they're saying that, fabulous! I'll take that. Great. Why not?
Would you ever pose for Playboy again? No. Been there, done that got the hat and T-shirt … and it was great for the time it was … . In terms of doing the magazine, I'm not in bad company, a lot of huge, wonderful, very talented actresses have posed for Playboy without being pigeonholed or stereotyped … . Sometimes people think that if you do the magazine that is what you are, a Playmate. No, that was a job … . I was 18 to 20 when it was all wrapped up and done, and then I moved on.
Most expensive purchase? I remember once spending $750 on a pair of shoes—ridiculous. They were beautiful. They were Dolce & Gabbana with bumblebees on them. Do we have to have shoes with bumblebees?
Style influences? There are ladies in Hollywood that I think are always impeccably dressed, that stand out all the time. Halle Berry is always stunning. Salma Hayek: stunning— she always has these darling dresses pulled together. [And] Michael Michele [is] the most elegant. Those are looks I really like.
What will you be wearing in 20 years? I'll be 55 in 20 years and I hope I am still in jeans, UGGs, T-shirts and sweaters.
Future projects? I just finished one but it's top secret so I can't talk about it. [Another] one I just finished for Lifetime is called Fatal Reunion, it's a psycho-thriller. I had four that I did last year, and some of them are not even out yet.
Photographs by Chad Johnston
Styled by Zaneta Bartosova
Hair by Robbie Lane; Hedkandi Salon
Makeup by Beau Nelson
Shot on location at the Fairmont Palliser Hotel