New Teams for The Real Gilligan's Island
TBS, television's "very funny" network, has unveiled the cast for its second season of The Real Gilligan's Island, one of cable's most popular reality series.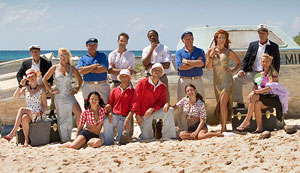 Hosted by Scott Lasky, the series sets sail for another season of comedy, outrageous competitions and island hook-ups Wednesday, June 8, at 9 p.m. (ET/PT).
The Real Gilligan's Island, which was cast from a nationwide search, features two real-life skippers, two first mates, two millionaire couples, two movie stars, two farm girls and two professors. The castaways must work together, as the original castaways did in the 1960s sitcom, to get off the island. In each episode, the two teams must face off against each other in themed competitions, some based on situations from the original series.
The Real Gilligan's Island, executive-produced by Mike Fleiss (The Bachelor), is produced for TBS by Next Entertainment in association with Telepictures Productions. The father/son team of Sherwood Schwartz, the creator of the original Gilligan's Island sitcom, and Lloyd J. Schwartz, also serve as executive producers. Scott Jeffress (The Bachelor, The Bachelorette) and Lisa Levenson (The Bachelor, The Bachelorette) serve as co-executive producers for Next Entertainment. Warner Bros. International Television Distribution will be selling the international format rights to the series, as they have for Next Entertainment/Telepictures Productions' The Bachelor.
The following are the cast members for the second season of The Real Gilligan's Island, which promises more romantic hook-ups, tenuous alliances and bitter rivalries:
The Gingers
Ginger Angie Everhart graced the covers of Elle and Glamour by the age of 18. She then made the transition from runway to screen when she co-starred in The Last Action Hero and Jade. Her other movie credits include Bordello of Blood and Another 9-1/2 Weeks, while her television roles include the series UC: Undercover, the miniseries First To Die and the television movies Bugs and The Hollywood Mom's Mystery. A native of Akron, Ohio, Everhart enjoys horseback riding and extreme sports. She is also passionate about children's charities and environmental causes.
Ginger Erika Eleniak made her big-screen debut as the little girl who kisses Henry Thomas in E.T. The Extra-Terrestrial. Her breakout role, however, came in the action-adventure hit Under Siege, followed by The Beverly Hillbillies, Chasers, Tales from the Crypt: Bordello of Blood, Girl in a Cadillac and A Pyromaniac's Love Story. Her television work includes two years on Baywatch and a recurring role in Brooklyn South. For TBS, she starred in the television movie Christmas Rush. She recently appeared in such independent films as Betrayal and The Opponent.
The Gilligans
Gilligan Shawn Manning is a 24-year-old Quincy, Mass., resident who mans the door at a marina nightclub in Boston. Although he's never owned a boat, he has never hesitated taking girls onto his friends' boats and pretending he's the captain. Also employed as a personal assistant to a professional football player, Shawn counts sports as one of his two greatest passions. The other is women.
Gilligan Zac Turney is a 24-year-old cabana towel boy for a hotel in St. Petersburg, Fla. He considers himself the world's biggest optimist, collects comic books and is a total music junkie. Easygoing and energetic, Zac also has the uncanny ability to climb trees like a monkey.
The Skippers
Skipper Ken Callen is a 47-year-old retired U.S. Navy officer, so he knows his way around a ship. A resident of Chesapeake, Va., he brings to the island a host of survival skills he learned in military training and the Boy Scouts. He credits the Skipper on the original series as being one of the major reasons he joined the Navy in the first place.
Skipper "Crazy" Charlie Albert is 50 years old and lives and works in the swamps of Springfield, La. For the past 25 years, he has been the harbormaster and owner of the Blood River Landing Marina. Charlie has crewed and skippered on three boats from the Panama Canal to Alaska. In his spare time, he enjoys wrestling alligators.
The Millionaires and Their Wives
Millionaires Jim (47) and Donna (42) Bounce live in Las Vegas. Jim is the president of Millionaire Corporation, which publishes Millionaire and Billionaire magazines, among other enterprises. He also owns two real estate companies. Donna is a vice president of an escrow and title company and owner of Bounce Fashions.
Millionaires Howard Schur (59) and Melissa Jones (33) are engaged to be married and live, appropriately enough, in Purchase, N.Y. Howard works as a banker and financial consultant and loves to fly his own plane around the country. Melissa is a sales director and has a degree in musical theater. Howard likes to take care of everything, and Melissa likes to be taken care of.
The Professors
Professor Tiy-E Muhammad is a 35-year-old professor of psychology and human sexuality at the Atlanta University Center. Known as the Love Doctor, he has shared his advice about love and sexuality on numerous television and radio programs and has written two books on relationships. This part-time hair model has recently set his sensual spoken poetry to music on the album Ladies in Paradise.
Professor Andy Schuler is a 40-year-old assistant professor of environmental engineering at Duke University. He received his PhD from the University of California, Berkeley. Andrew specializes in water chemistry and has developed a new method for measuring and removing bacteria from water. He's also a member of the International Water Association. Andrew loves backpacking, rafting and playing the guitar.
The Mary Anns
Mary Ann Randi Silvers is 23 years old and hails from rural Edwardsville, Kansas (pop. 4,400). She works as a waitress. For fun, she enjoys driving to Kansas City. Randi is also a trained lifeguard and a bikini model. She has three younger brothers, so she's used to watching over a wild bunch with a firm hand.
Mary Ann Mandy Weaver is 26 years old and currently works as an interior designer. She comes from Nashville, Tenn., where she spends a lot of time enjoying the outdoors. She is also an accomplished athlete and has taught ballroom dancing. She prides herself on being able to fry just about anything.