Skipper Charlie Albert Wins The Real Gilligan's Island
Just sit right back and you'll hear a tale, A tale of a harbormaster from Springfield, Louisiana. Nearly fifty years old, he beat all the young 'uns and won a quarter million dollars on The Real Gilligan's Island.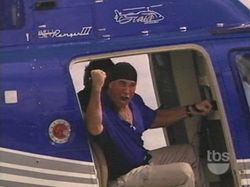 The likable and original Skipper "Crazy" Charlie Albert wound up taking home the prize on the finale of The Real Gilligan's Island. The final three came down to Gilligan Shawn Manning, Ginger Erika Eleniak, and Skipper Charlie Albert.
The final challenge was to find a shovel, dig up a box filled with materials for starting a fire, actually start a fire, carry a lit torch to a platform out in the ocean, and light two flares to single a helicopter. Skipper Charlie not only won, but he smoked the competition. Ginger Erika and Gilligan Shawn were still on the beach when Skipper Charlie boarded the rescue helicopter.
Throughout the experience, Skipper Charlie left us with some very memorable quotes like "It's on like a chicken bone." However, his most poignant statement probably came as the helicopter carried him away from the island. Skipper Charlie said, "It's a funny thing when a person gets almost fifty years old. They think that the books kind of winding down. But after my experience on this island, it looks like I've got to go for another fifty years, because it's a whole new world for me now. I'll never forget this. I'll never regret anything. I think it's one of the most wonderful things that ever happened to me."